Using Your Smartphone to Gather Evidence after an Greensboro Auto Accident-Tips from a Greensboro Personal Injury Lawyer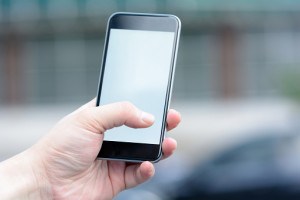 Garrett, Walker, Aycoth, and Olson is a premier personal injury law firm serving clients throughout North Carolina. From our offices in Greensboro, our experienced auto accident attorneys help families get the compensation they need after they have been injured in a crash or collision.
Chances are, if you own a smartphone, it is never more than an arm's reach away. Hopefully, when you are driving, it is put safely away so that it does not distract you while you are driving. However, if you are involved in a car crash, your smartphone could end up being a valuable tool to help you document the crash and gather evidence to support your claim.
Immediately following a crash, the first thing you want to do is to check yourself and those in your vehicle and other vehicles for injuries. If everyone seems to be OK, then you will want to get started documenting the scene immediately. If your phone has the ability to shoot video, then take a quick video of the scene being sure to capture as many details of the wreckage as possible. You may also want to take several still shots of your vehicle and the other vehicles involved, your injuries and any property damage that you see. Do you see skid marks on the pavement leading up to the crash? Take pictures of those as well. Hand someone your phone and ask them to shoot a video of you from head to toes if you have injuries.
You can use the notes feature to take down the contact information, which should include the name, address phone number, email address and insurance company details for the other parties in the crash. If they consent to doing so, you might record the statement of any willing witnesses about what they saw and heard leading up to the crash. Be sure to get their contact information for any follow up questions you might have later.
All of these tips are assuming that you are well enough to move around and ask all of these questions and film evidence. If you are in pain because of an injury and unable to move around, after you are sure that emergency assistance is on their way, ask someone you trust to gather this information for you.
Another important thing you can do with your phone is to call a lawyer. If you have got serious injuries and property damage, you may want to talk to an experienced auto accident attorney from the law firm of Garrett, Walker, Aycoth, and Olson. We do not charge you for the presentation and we will answer any questions you might have about the value of your case and your various legal options.
Contact our Greensboro Personal Injury Lawyers today if you or someone you know has lost a loved one as a result of someone else's negligence.